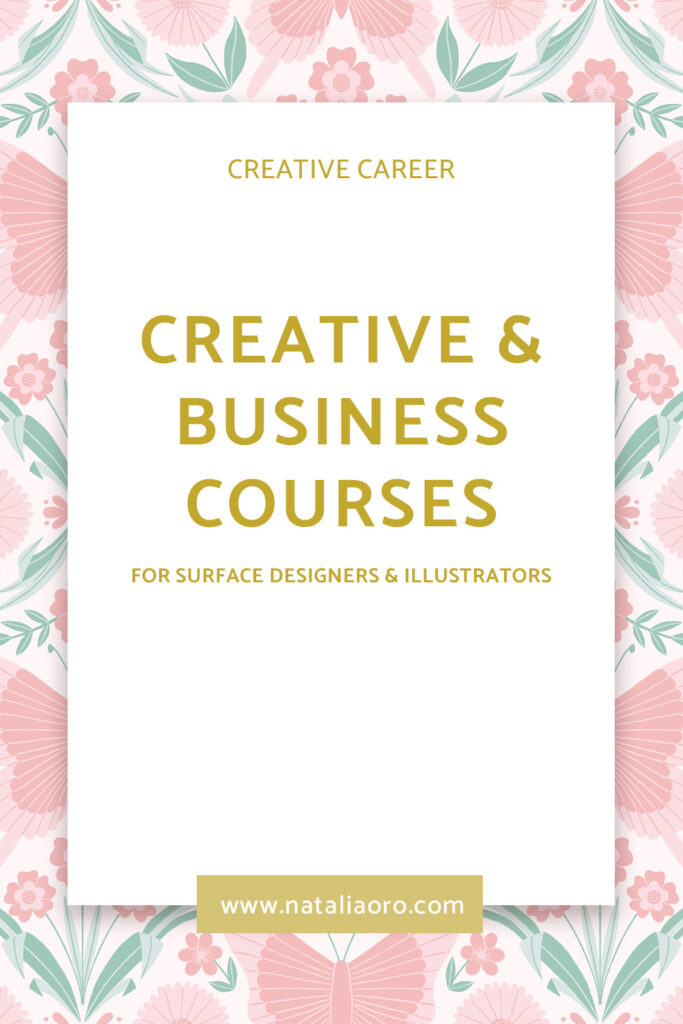 I´m a strong believer in life-long learning and I love to explore new themes & techniques. So, it was not a surprise as I discovered for me Skillshare in 2020. I immediately dived deep in watching, learning and creating with numerous Skillshare classes.
First, I started learning Procreate with Brooke Glaser´s classes. Then I explored drawing patterns on the iPad. Nina @DiUJdi gave me with her class "Create an Intricate, Editable Floral Pattern in Procreate" exactly the technique, knowledge and support I needed to create patterns on my tablet. I was hooked and my interest in pattern making was awoke!
After this class I took many others – colour palette creation, lettering, making pattern collections, mockups, look books, licensing, pod, editorial illustration, business & income for creatives. Here are some examples I made attending these courses. Below them is a list of my favourite classes, not only on Skillshare:
Creative courses
Victoria Johnson:
Create Collections + here is my review of her class
Make It In Design – Summer and Winter School
Procreate
Brooke Glaser – Intro to Procreate: Illustrating on the iPad (UPDATED for 2022)
Procreate patterns
Di Ujdi – Create an Intricate, Editable Floral Pattern in Procreate
Di Ujdi – Half Drop Patterns in Procreate: Complex Elements and Custom Actions
Di Ujdi – Patterns Are Forever: Create a Symmetric Diamond Pattern in Procreate
Patterns in Photoshop
Dylan Mierzwinski – Building Awesome Pattern Tiles in Adobe Photoshop
Patterns in Illustrator
Bonnie Christine – Advanced Techniques in Surface Pattern Design
Pattern collections
Maja Faber – Design a Pattern Collection: Streamline Your Workflow Using Adobe Draw and Illustrator
Elizabeth Olwen – Pattern Design II: A Creative Look at a Full Pattern Collection
Pattern theorie & classic patterns
Bärbel Dressler – Learn to Design Arts and Crafts Patterns
Colour palette
Gia Graham – How To Create A Perfect Color Palette For Digital Art
Charly Clements – Fun With Colour: 5 Exercises for Picking Unique Colour Palettes
Lettering
Gia Graham – Hand Lettering in Procreate: Fundamentals to Finishing Touches
Shannon McNab – Hand Lettering for Surface Designers: Build a Skill that Will Wow Your Clients
POD
Cat Coquillette – A Step-by-Step Guide to Art Licensing: Sell Your First Piece of Artwork Online
Liz Kohler Brown – Repeat Patterns for Print-On-Demand
Mockups & look book
Maja Faber – Showcase Your Artwork – Make Your Own Mockups | in Adobe Photoshop
Maja Faber – Create and Publish Your Design Look Book | Working in Adobe Indesign and Illustrator
Elizabeth Olwen – Pattern Design: Bring Your Artwork to Life on Products
Cat Coquillette – Design Top-Selling Product Mockups with Your Art ✶ BONUS: 10 Free Downloads
Businnes courses
Shannon McNab – Pitch Your Portfolio
Shannon McNab – Artful Pricing and Negotiation
Shannon McNab – Portfolio Masterclass
Shannon McNab – Airtable for Artists: Organize Your Business & Increase Your Productivity
Maja Faber – How to Make a Living as a Surface Pattern Designer
Liz Kohler Brown – A Guide to Diversifying Revenue for Artists & Designers
Bonnie Christine – Focus to Flourish: Productivity Skills for the Creative
*Note: It is possible that I receive commissions for purchases made through links in the posts but I would only recommend a course that I have personally found to be of benefit.